Thanks to the growing prominence of the sharing economy, app culture prevalence, tech advancements, widespread internet accessibility, and the push towards sustainable and eco-friendly alternate transport forms, shared micromobility continues to script success stories in cities worldwide. Of particular interest is the market growth in recent years- a testament to how bike sharing can make life more efficient.
Before we dive into some bike sharing statistics that reflect the growth of bike sharing systems, here is a brief look at the concept of micromobility.
What is Shared Micromobility?
Shared micromobility refers to the use of small, lightweight vehicles that are typically powered by electricity. These vehicles are designed for short trips within urban areas and can be rented by minute or hour using a smartphone app.
Factors contributing to the growth include increasing traffic congestion and the popularity of low-cost, convenient, and efficient transportation options.
That said, it's crucial to understand the differences between bike sharing and bike rental. Bike sharing is focused on short, one-way trips within a city, while bike rental is geared towards longer, personal use for recreational or touring purposes.
The time has never been better for entrepreneurs to gain a portion of the bike sharing market share.
We hope these varied and promising market trends and bike-sharing market statistics reinforce the visionary possibilities of democratizing bike-sharing.
Global Bike Sharing Statistics & the Potential Therein
According to Statista, worldwide revenue in the market share is projected to reach an impressive US$9.14 billion in 2023, with an annual growth rate of 9.91%. This growth is expected to result in a bike sharing market size of US$13.34 billion by 2027, with almost 1 billion users expected to take advantage of bike-sharing services.
Furthermore, the average revenue per user (ARPU) is expected to be around US$11.21, while a significant 93% of total revenue is expected to be generated through online sales by 2027. Bike sharing marketing trends project China to generate the most revenue in the market.
More than 100 billion dollars have been invested in shared-mobility players since 2010- 70 percent of which came from venture capital and private equity entities. Evidently, shared mobility can be an entrepreneur's goldmine.
To that end, the market has expanded significantly, reaching $20.78 billion globally in 2021. Today's e-bike sharing market is expected to grow at 8 to 10% CAGR and exceed $42 billion by 2030.
As of 2021, there were more than 2,000 bike-sharing programs in operation worldwide, with a total of over 25 million shared bicycles.
A study conducted by the European Cyclists' Federation found that bike sharing can replace up to 12% of car trips in cities.
The city of Paris in France has one of the most extensive bike-sharing programs in the world, with over 20,000 bicycles available for rent across the city.
At the time of writing this piece, the market represents 590 micromobility companies from Europe, 114 in Asia, 27 in the Middle East, and fewer than 10 in Africa. The number stands at the 22 mark in Latin America. Over 560 companies in North America offer micromobility products, solutions, and services.
The Bike Sharing Market USA
According to the National Association of City Transport Officials (NACTO), shared mobility ridership rebounded to pre-pandemic levels in 2021, overcoming 2020's pandemic-induced 70% dip in travel across all modes of transport. A whopping 112 million trips were taken on station-based bike share systems, dockless e-scooters, and dockless bikes. The total bike sharing market in the US stood at just 65 million in 2020.
As a result of the growing adoption of e-bikes across station-based systems, the e-bike sharing market saw a two-fold increase–from 9.5 million in 2018 to 17 million in 2021.
Interestingly, by the end of 2021, e-bikes occupied  2/3rd of station-based bike-share systems, and at least a quarter of all stations had e-bikes. The U.S. is projected to witness the most revenue from the market.
In 2021, the average trip duration for e-scooter and bike share users was between 11-15 minutes and covered 1-1.5 miles. On the other hand, casual users of station-based bike share systems took more extended trips, with an average duration of 24-28 minutes and a distance of 2.4-2.7 miles.
Many cities, including Chicago, Los Angeles, Philadelphia, Washington D.C, Portland, OR, and New York City, expanded their bike share systems from 2020 to 2021. For example, in Boston, over 80% of households had access to Bluebikes stations within a 10-minute walk in 2021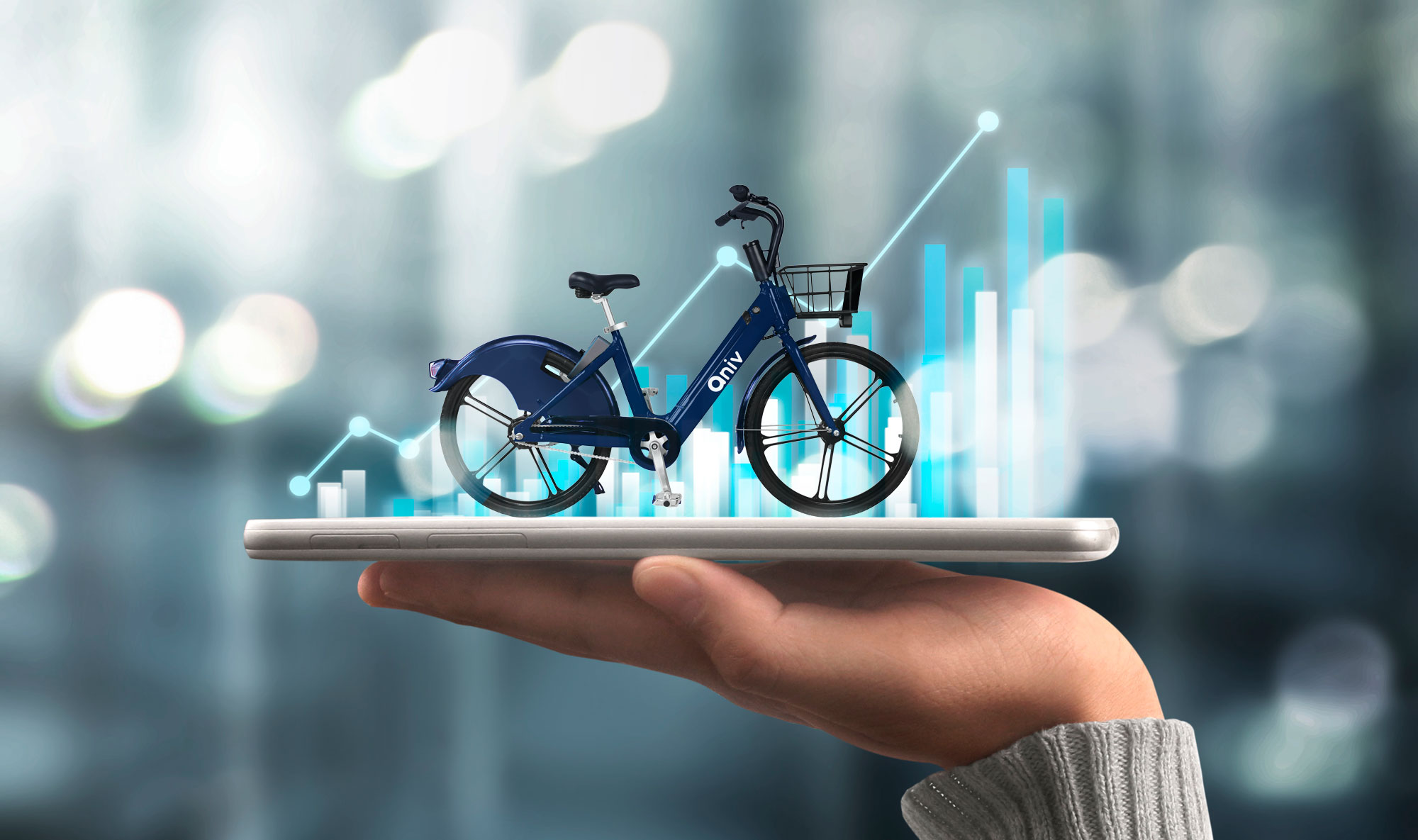 Grab a Share of the Booming Bike-sharing Market with Aniv
This bike sharing market growth presents a wealth of opportunities for entrepreneurs looking to make it big with a micromobility business model.
Aniv's all-in-one electric bike and scooter sharing platform (micro-mobility sharing platform) allows you to easily manage micro-mobility enterprises using a single customizable app.
With full-featured rider-facing and operations apps available and white-labeled for each business, Aniv empowers entrepreneurs to take advantage of the tremendous opportunities presented by the growth of bike sharing.
The platform offers a wide range of features, including the ability to have multiple franchises, scale networks, and remotely manage fleets through AI data-driven software. Additionally, you can earn extra income through the Aniv advertisement platform and launch an efficient and user-friendly ridesharing app.
Our micro-mobility platform can be utilized by various establishments such as cities, hotels, and residential buildings.
When you power your bike-sharing business with Aniv, you can have access to tailored insights for shared fleets- enabling you to monitor key metrics such as business KPIs and GPS-geofence tracking along with leveraging proactive AI-based predictions.
Don't miss out on the opportunity to revolutionize your micro-mobility business! Sign up with ANIV today and take advantage of our all-in-one electric bike and scooter sharing app to scale your network, manage your fleets, and foster sustainable alternative modes of transportation.  Contact Aniv Ride today!
Read more: Aniv's presence at the CES Conference.